Tbilisi is one of the oldest capitals in Europe. The name of the city is first mentioned in Georgian books from the fourth century; however, it wasn't a capital then, but a fortified city. Convenient geographical conditions have contributed to the development of Tbilisi turning it into a prominent hub between Europe and Asia. With more and more tourists in Tbilisi has also the amount of pickpockets drastically increased in Tbilisi over the last few years. So be aware!

TOP 10 THINGS TO DO WHILE IN TBILISI
1. TAKE A STROLL THROUGH THE OLD TOWN.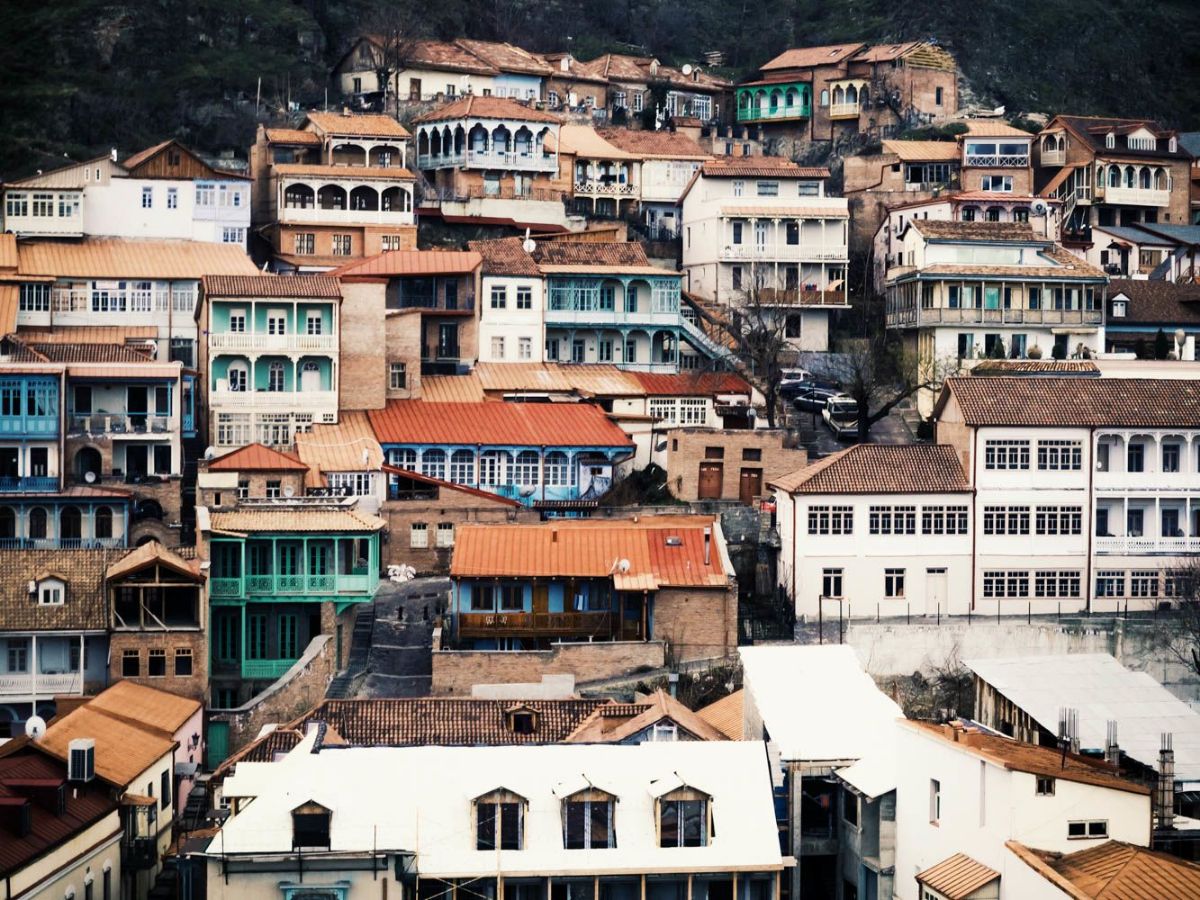 Old Town Tbilisi has over the recent years gotten a huge "facelift." These days, there´s local art shops, wine houses, small family run guesthouses. You can spend hours getting lost in the old alleys and backstreet, just to find a small local bar or Kinkhali house.
2. TAKE A SULPHUR BATH.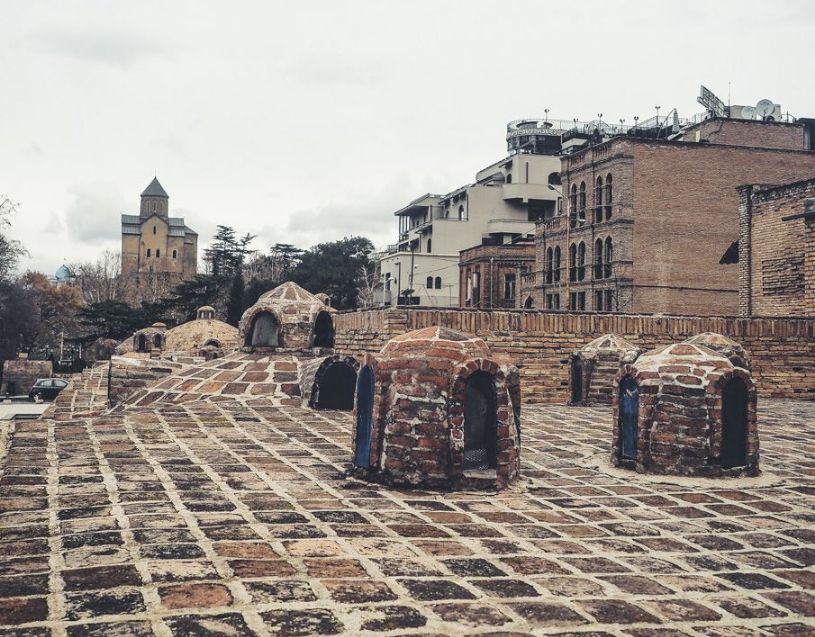 The famous Sulphur Baths are located in the Abanotubani district in the middle of the old town. The sulphur baths are an amazing place to relax for an hour or two, especially during the colder months of the year.
Most of the baths are open 24/7, and the price varies from 30 Lari for the cheapest private room to 100 Lari for a private room. The room quality varies as much as the price difference. There are also public rooms available for 3 Lari.
3. VISIT THE HOLY TRINITY CATHEDRAL OF TBILISI.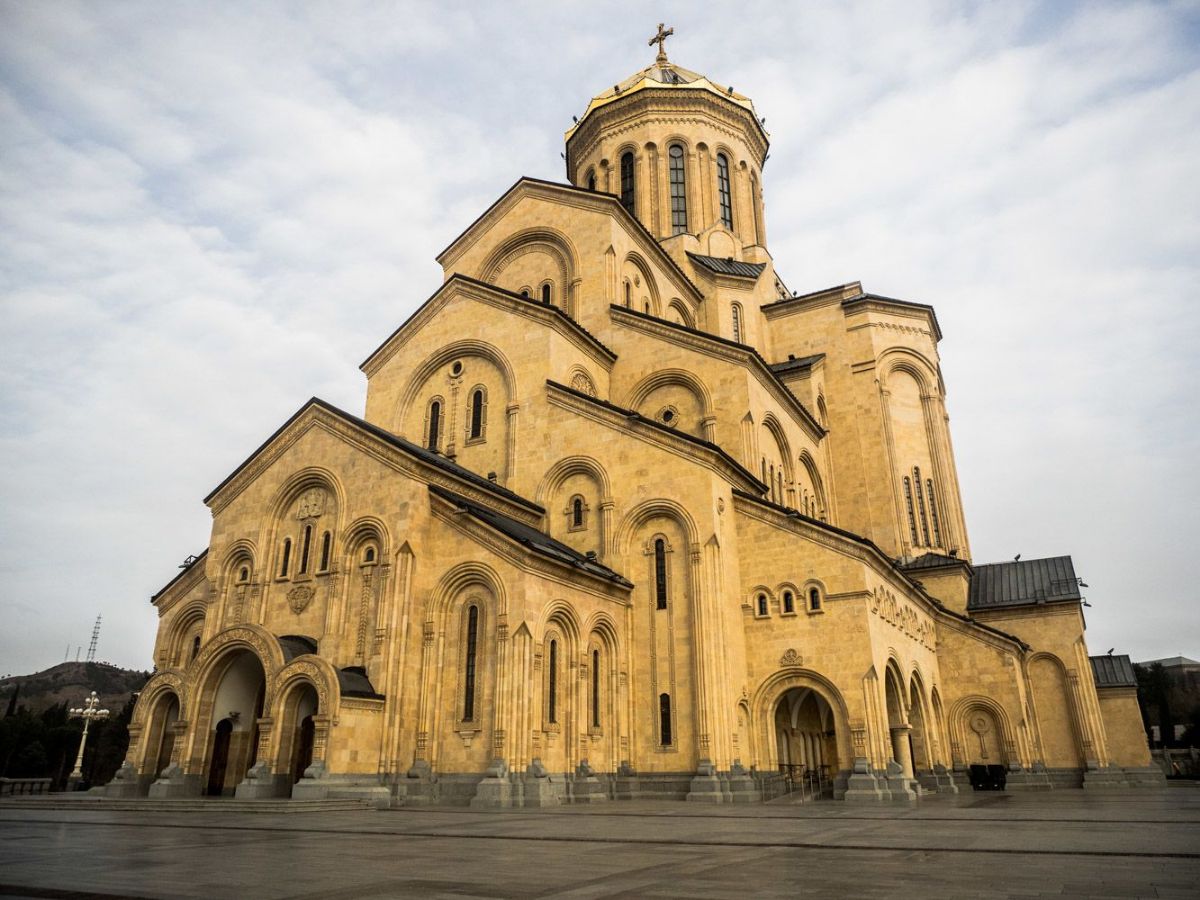 There´s no shortage of churches in Tbilisi or Georgia; you will never be far from one. The one you will see the most is the huge Holy Trinity Cathedral of Tbilisi or locally known as "Sameba". The construction of Cathedral was only completed back in 2004, so it doesn't offer the same amount of history as most of the other churches in Tbilisi. But the Holy Trinity Cathedral is impressive in other ways.
It´s with its height of 97,5m the third largest Orthodox cathedral in the world only after the Saint Isaac´s Cathedral in Saint Petersburg and Cathedral of Christ the Savior in Moscow.
4. VISIT THE MTATSMINDA PARK FOR THE STUNNING VIEW OF THE CITY.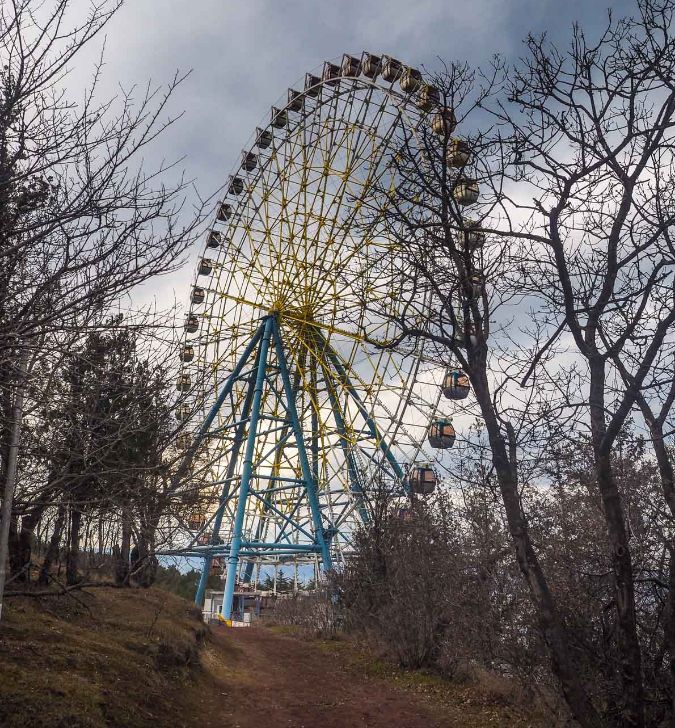 Mtatsminda Park is the highest point surrounding Tbilisi; the park has a small amusement park, a Paris wheel (that´s the highest point in Tbilisi), a lot of restaurants and small bars. It´s a popular hangout for the couples in the evening to enjoy the amazing view of the city landscape.
The park can be reached by bus 124 or by the Funicular railway.
5. TRY THE LOCAL CUISINE.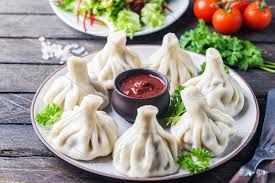 Georgian cuisine is vegetarian-friendly, and recently, a vegan cafe has opened up in the city. I'm neither vegan nor vegetarian, and I love the anti-vegan food. Georgian food, for me, is up there with Chinese, Mexican and Thai food. Cheese and meat are used in almost every dish.
While most of the food in Georgia like in all other old Soviet countries are heavily meat-based, but they also have some delicious vegetarian surprises. The best and most common dish which is also considered as the national dish is called Khachapuri, a "fluffy" bread with the centre of it filled with cheese in the middle and with an egg on top of the cheese again. The crust is a proper bread that you use to dip in the cheese.
Different regions of the country have different versions of Khachapuri. Central Georgia's Khachapuri looks more like a calzone than a traditional one whereas western Georgia likes to add more cheese to the Khachapuri than the rest of the country.
6. TAKE THE CABLE CAR TO THE MOTHER, GEORGIA STATUE.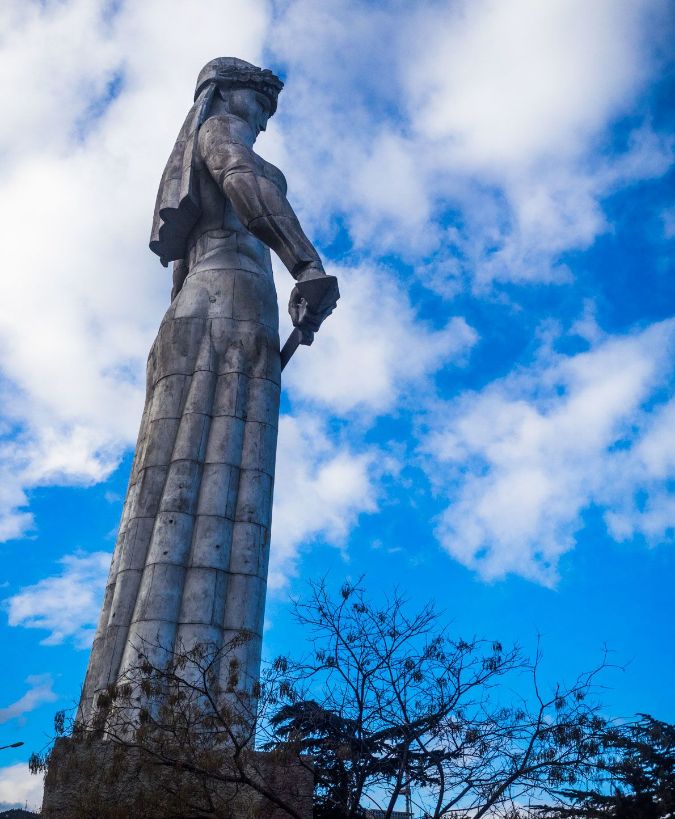 The Mother Georgia is located on a high hill overlooking the city, you can either walk up, or you can take the cheap cable car from the eastern part of the city. The ride is only 1 lari. You will enjoy a panoramic view while riding over the old town.
You will enjoy a nice view of the city, similar to the top of Mtatsminda Park. You also visit the castle overlooking the city while walking back down. The Mother, Georgia Statue.
Taking the cable car across the river, There´s some strange modern architecture on the right side of the river.
7. TRY THE LOCAL CANDY.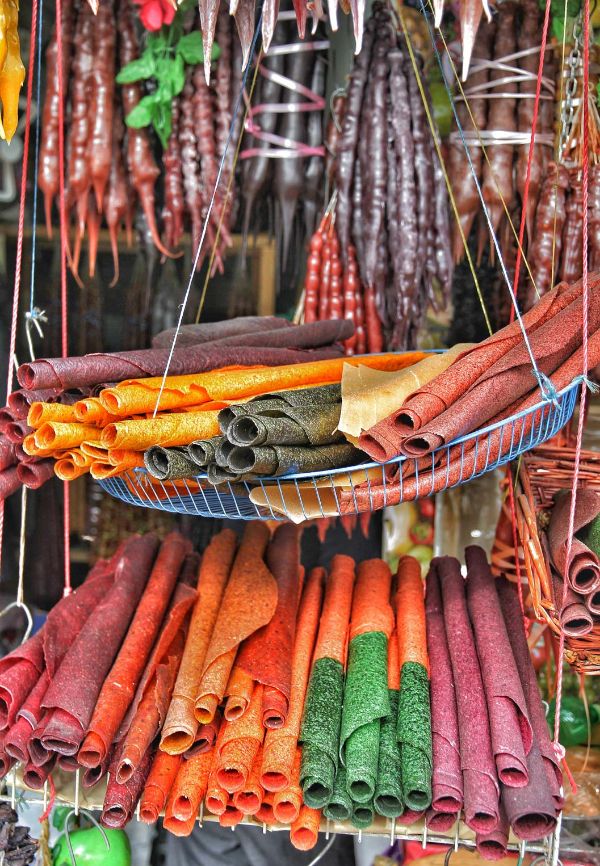 There are two types of homemade candy´s in Georgia, Churchkhela, and Taklpi. These are sold from old babushkas on street corners to big shops on the main streets. It´s impossible to walk around Tbilisi without seeing a shop or two selling it.
Churchkhela is a sausage-shaped Georgian candy stick with walnuts on the centre. They are dipped in thick hot grape juice. The other local candy is Taklpi which are fruit rolls. There are numerous varieties, including plums, pear, apple and even kiwi.
8. WATCH THE PUPPET SHOW.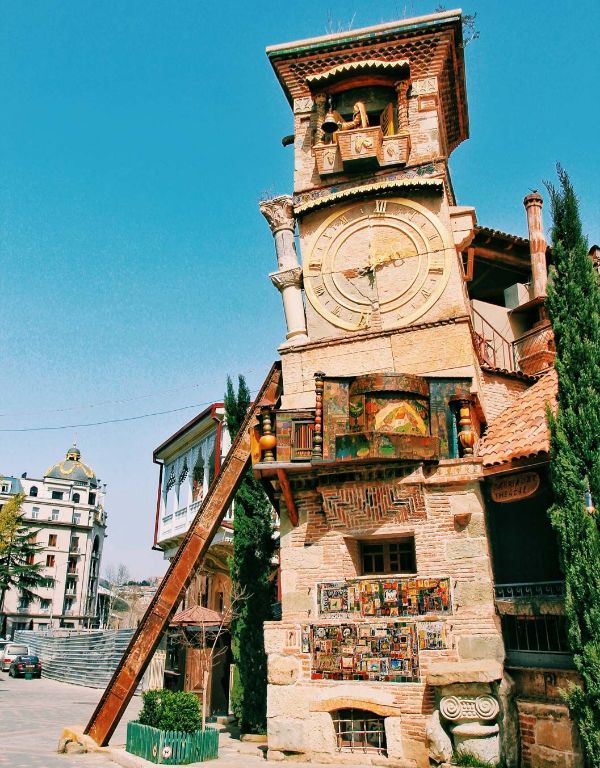 The leaning clock tower was created by the famous Georgian puppeteer Rezo Gabriadze.
Each hour a window opens at the top and an angel strikes the bell. Below the clock, a screen opens and shows the circle of life: boy meets girl, marriage, childbirth, and funeral.
9. CHECK OUT THE LOCAL NIGHTLIFE.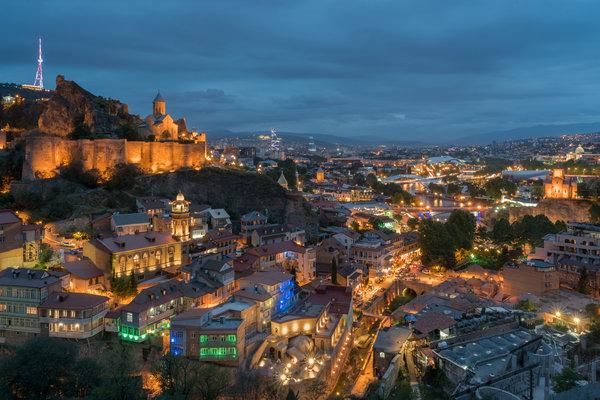 Tbilisi is considered by many to be the best clubbing city in Eastern Europe and almost on a level with Berlin in western Europe. The partying and clubbing culture has become a lifestyle and music is a sacred thing in the city. There´s also a club underneath the national football stadium. If you are not into clubbing, there are many local bars spread around the city, from small jazz clubs to pubs, frequented by the locals and foreigners, selling a glass of draft beer or glass of wine for 2 lari.
HOTEL INFO & BOOKING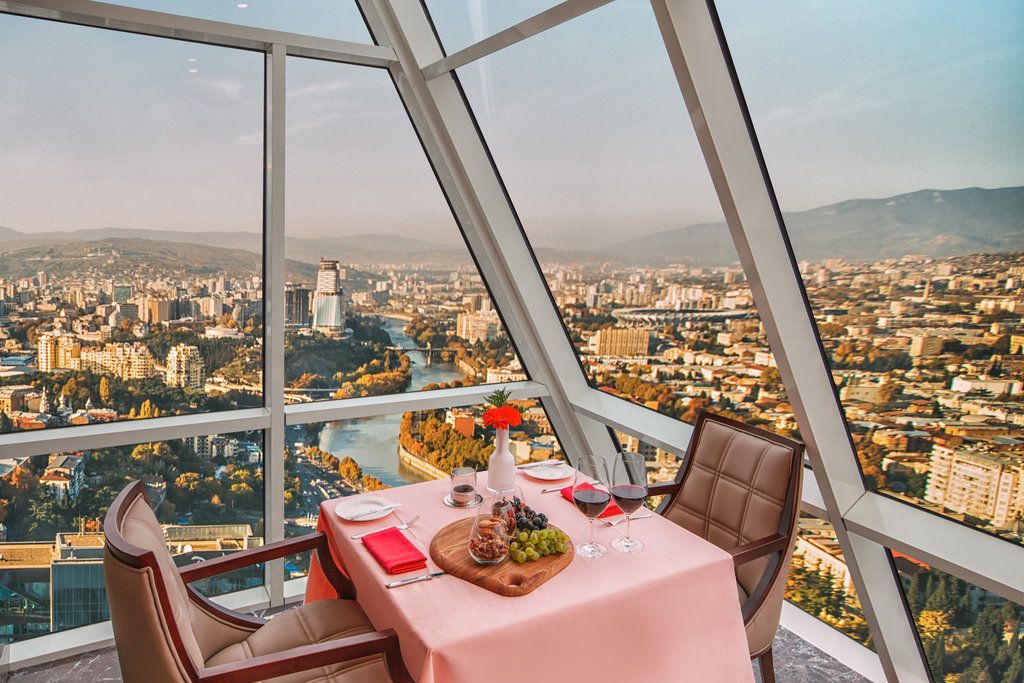 The Biltmore
Offering an indoor pool, spa and a fitness centre, The Biltmore Hotel Tbilisi is located in Tbilisi, 300 m from Tbilisi Opera and Ballet Theatre. The hotel has a sun terrace and a sauna. Guests can enjoy a drink at the bar or taste different cuisines at on-site restaurant. Free private parking is available on site.
Each room at this hotel is air conditioned and features a flat-screen TV with satellite channels. Some rooms have a seating area to relax in after a busy day. Enjoy a cup of tea while looking out at the river or city. Rooms have a private bathroom equipped with a bath and bidet. Extras include bathrobes and slippers.
You will find a 24-hour front desk at the property. The hotel also offers car hire.
Rustaveli Theatre is 400 m from The Biltmore Hotel Tbilisi, while Freedom Square is 1 km away. The nearest airport is Tbilisi International Airport, 18 km from the property.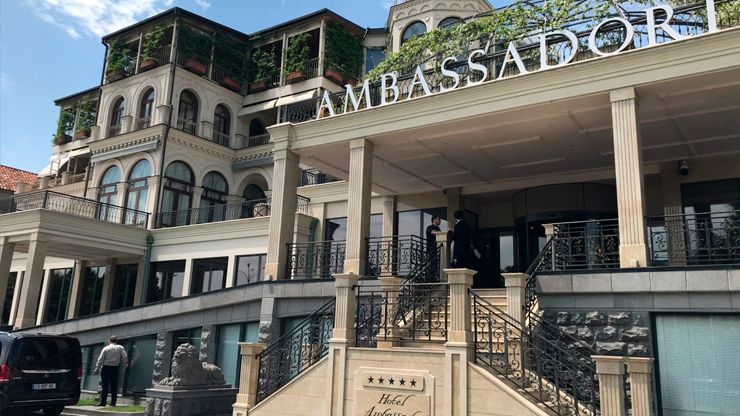 Ambassadori Tbilisi Hotel
Boasting an elegant Italian interior, Ambassadori Tbilisi Hotel is situated in historical, cultural and nightlife centre of Tbilisi City. Hotel offers 120 tastefully decorated rooms, out of which 84 are placed in a newly built, luxurious part of the building. Furniture at the property is exclusively decorated and manufactured for Ambassadori Tbilisi Hotel. Along with a fancy indoor swimming pool, guests can take an advantage of spa, fitness centre, sauna as well as a sun terrace. Free Wi-Fi and and free private parking are available at the property.
24-hour front desk and ATM are available on-site. Property also provides a car hire service.
Freedom Square is 500 m from Ambassadori Tbilisi Hotel, while Rustaveli Theatre is 900 m from the property. The nearest airport is Tbilisi International Airport, 13 km away.
Radisson Blu Iveria Hotel
Located in the heart of Tbilisi's commercial and business district and within a 10 minutes' walk from Old Town, Radisson Blu Iveria Hotel features a modern minimalist décor and offers an exclusive 1,600-square-metre Anne Semonin spa center. Rustaveli Metro Station and Tbilisi Opera and Ballet Theatre are a 5 minutes' walk away.
All modern rooms at Radisson Blu Iveria Hotel come with free WiFi, a flat-screen TV with cable channels, hot drinks facilities and a free bottle of water. All units are carpeted and feature an individual climate control, as well as a mini-bar. Private bathrooms include bath or shower and provide guests with free toiletries and a hair dryer.
Freedom Square is within 1.4 km of the hotel, while Art Museum of Georgia and Tbilisi City Hall are less than 1 km away. Tbilisi Train Station is within a 7 minutes' drive of Radisson Blu Iveria Hotel, and Tbilisi International Airport is 17 km away.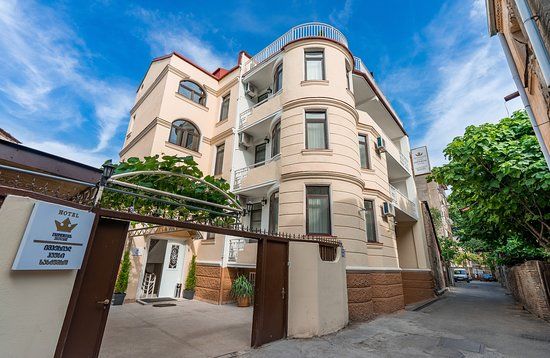 Imperial House Tbilisi

Imperial House Hotel is located in Tbilisi City, 300 meters from Freedom Square. This 3-star hotel offers free Wi-Fi and a terrace.
The hotel rooms have a patio. Each room has a private bathroom with shower, and some rooms at Imperial House have a balcony. All rooms are air-conditioned and have a desk.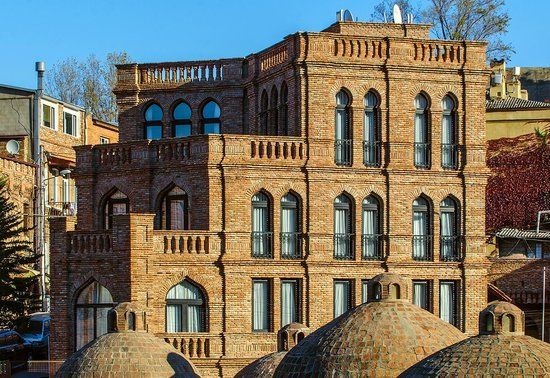 Old Tiflis Hotel

Old Tiflis Boutique Hotel is located in the center of Tbilisi, a 2 minutes' walk from sulfur baths and a 5 minutes' walk from Yan Shardeni Street. It offers modern rooms in a historic building with an on-site restaurant and free Wi-Fi.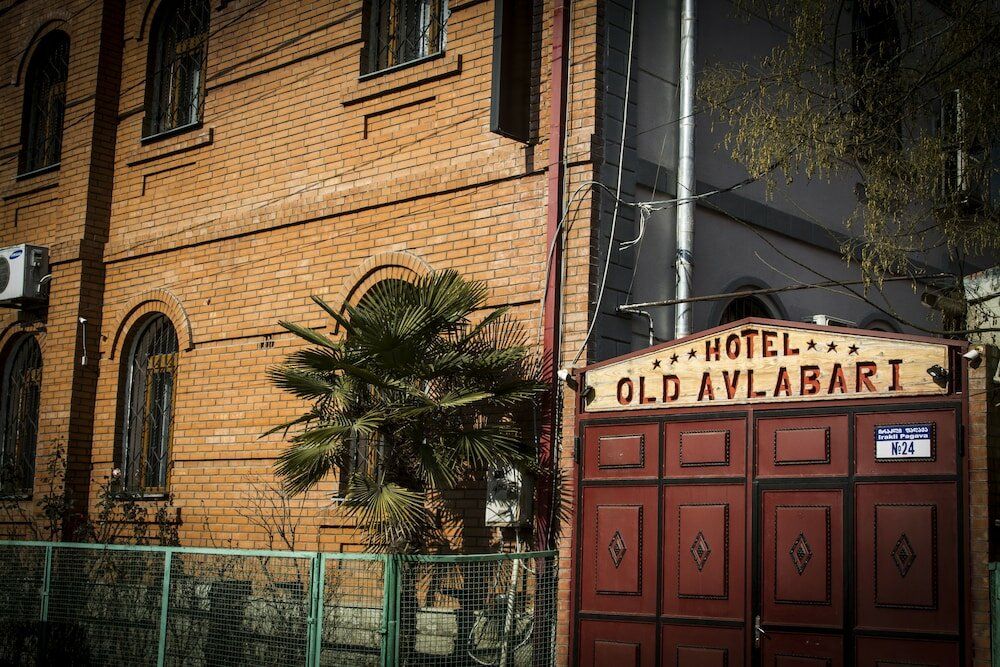 Old Avlabari Tbilisi

Sharden Hotel is located in the historical and cultural center of Tbilisi, a 10 minutes' walk from Freedom Square Metro Station.Avlabari Apartments is located in Tbilisi. Barbecue facilities and a hot tub are available. Freedom Square is 2 km away.The area is popular for cycling and bike hire is available at the property. Avlavari Apartments is 2.4 km from Shota Rustaveli Drama Theater and 2.6 km from Georgian Opera and Ballet Theater. The nearest international airport is in Tbilisi, 15 km.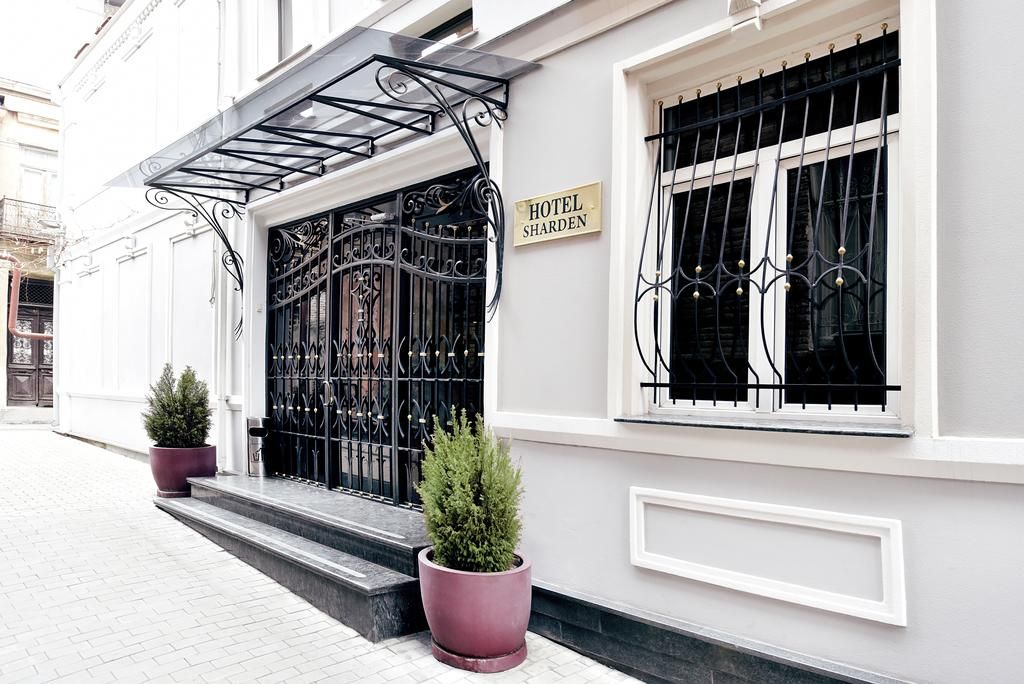 Sharden Hotel Tbilisi
Sharden Hotel is located in the historical and cultural center of Tbilisi, a 10 minutes' walk from Freedom Square Metro Station. The simply furnished rooms at Hotel Sharden are air-conditioned and include a flat-screen TV with satellite channels. Free Wi-Fi is provided.
Sharden Hotel serves a continental breakfast and traditional Georgian and European dishes. Room service is available. Concierge services are available to plan your vacation. Free newspapers and car rental services are available. Luggage storage is available.
Narikala Fortress and the State Museum of Art are 300 meters away. Tbilisi Train Station is 7 km away.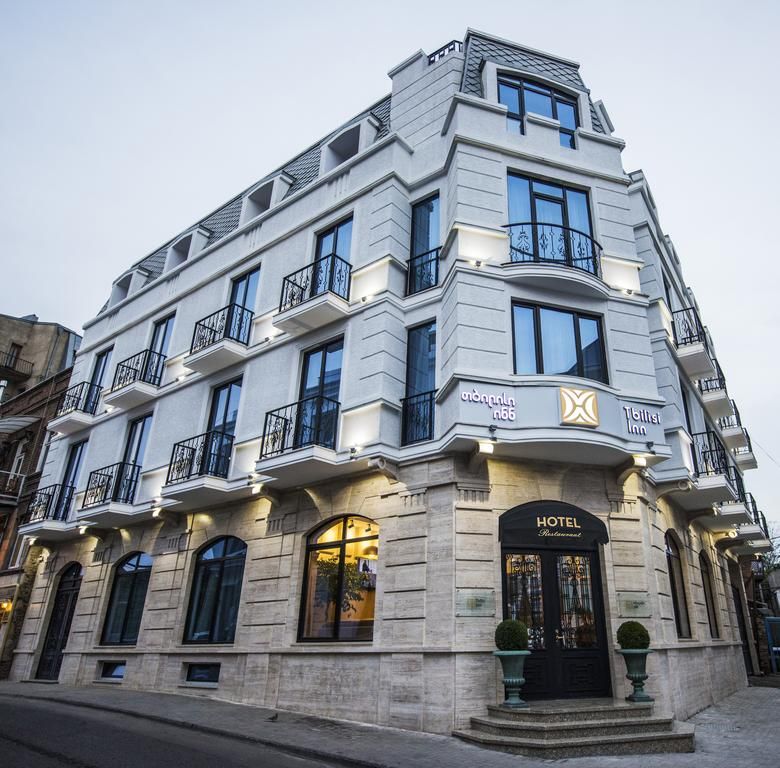 Hotel Tbilisi Inn
Featuring free WiFi and a restaurant, Tbilisi Inn offers accommodation in Tbilisi City. Guests can sip a drink at the on-site bar. Free private parking is available on site.
Rooms are fitted with a flat-screen TV. You will find a kettle in the room. Every room has a private bathroom. For your comfort, you will find bath robes, slippers and free toiletries.
Tbilisi Inn offers an indoor pool where guests can relax and swim after a busy day. Guests can train at the well-equipped gym also with a free of charge.
There is a 24-hour front desk at the property.
Freedom Square is 1.1 km from Tbilisi Inn, while Rustaveli Theatre is 1.6 km away. Tbilisi International Airport is 13 km from the property.