GARNI GORGE - SYMPHONY OF STONES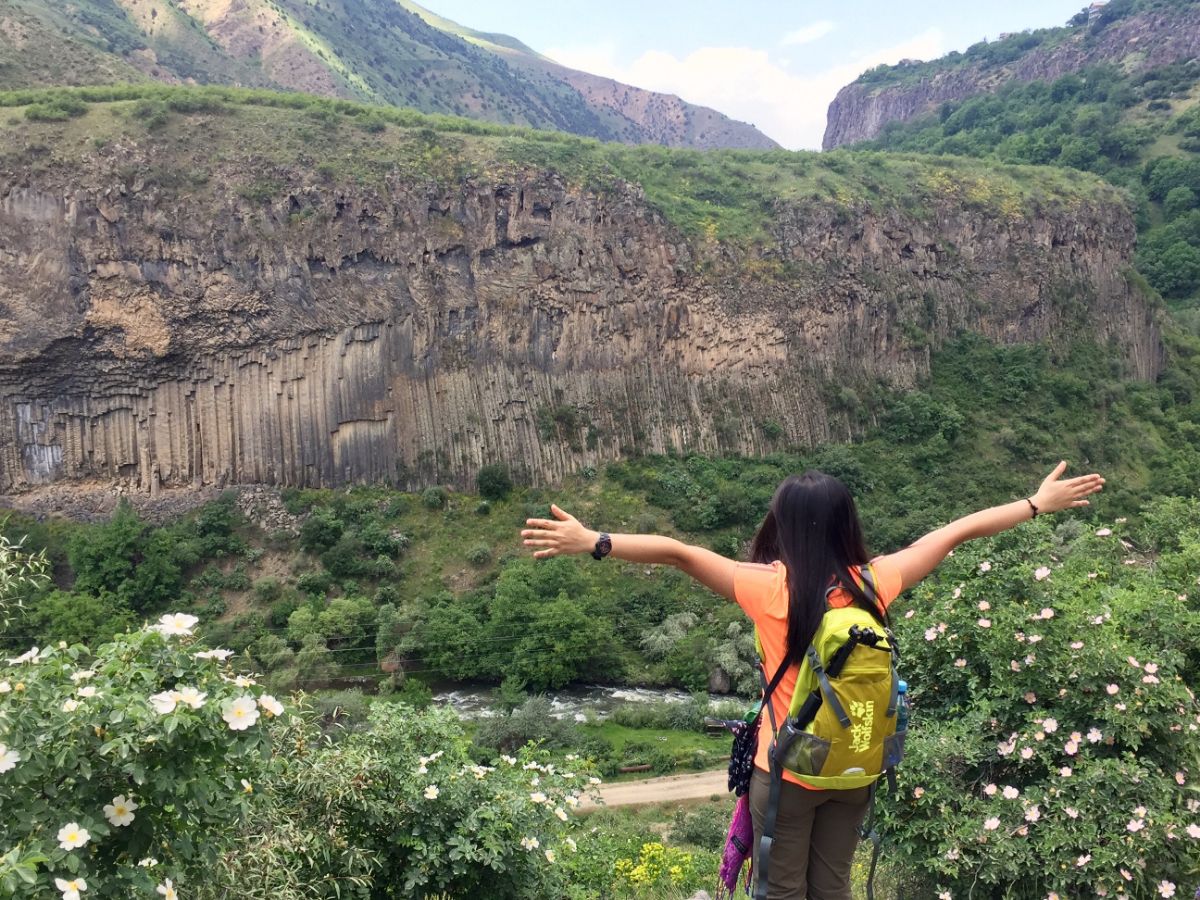 The Garni Gorge is situated 23 km east of Yerevan, Armenia, just below the village with the same name. On a promontory above the gorge the first-century AD Garni temple may be seen. Along the sides of the gorge are cliff walls of well-preserved basalt columns, carved out by the Goght River. This portion of the Garni Gorge is typically referred to as the "Symphony of the Stones." It is most easily reached via a road that leads left down the gorge just before reaching the temple of Garni. Another road leads to the gorge through the village, down a cobblestone road, and into the valley. Once in the valley, turning right will lead to Garni Gorge, an 11th-century medieval bridge, and the "Symphony of the Stones". Taking a left will lead along the river past a fish hatchery, up to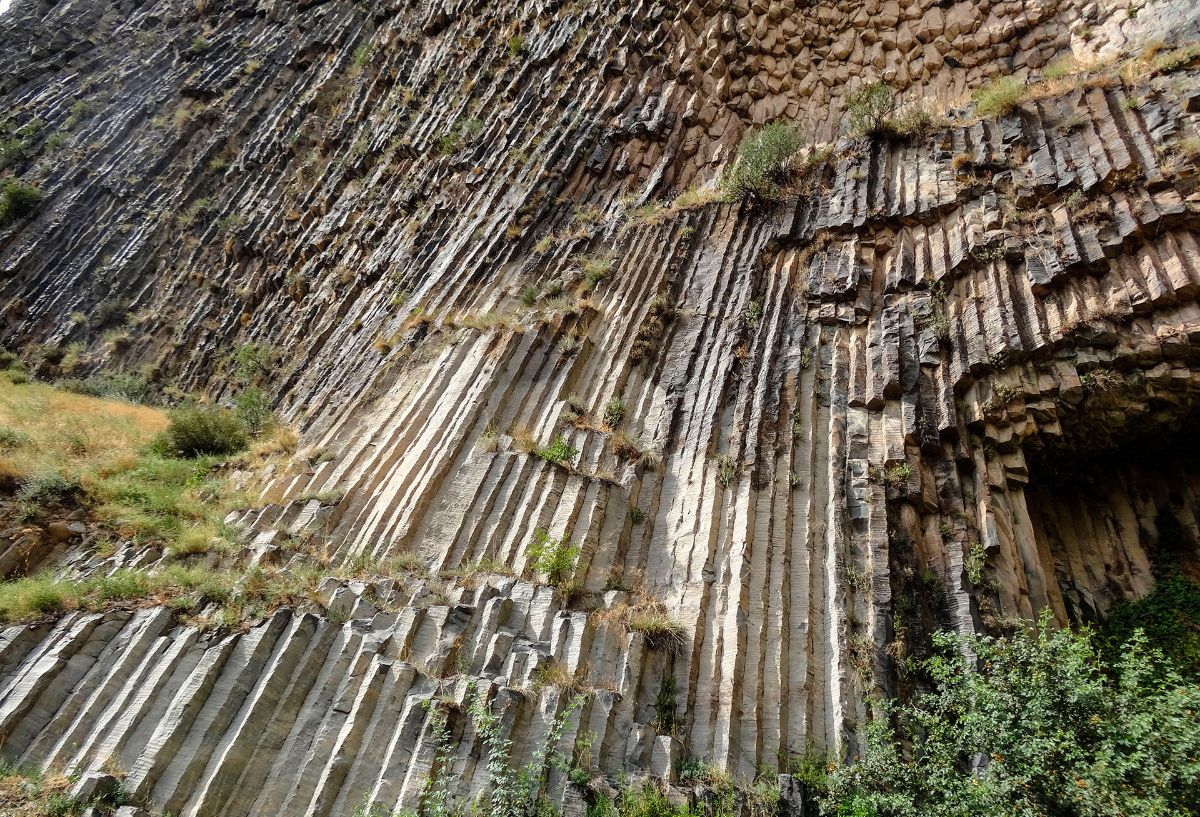 the Khosrov Forest State Reserve, and a little further Havuts Tar Monastery. Symphony of Stones or "Basalt organ", a natural monument in the basin of the Azat River, in the area of ​​Garni village. It is included in the list of RA natural monuments.

The symphony is represented by giant pentagonal and hexagonal basalt columns (about 50 m high), which seem to be handmade due to their amazing symmetry. The column of these columns, created by nature and hanging on the river, resembles a musical instrument - "Basalt organ". The Azat River flows through the gorge, filling the stone splendor with the sound of water.

The natural monument is famous for its magnificent, seemingly artificial rocks made of regular hexagonal cylinders. The latter stretch from the bottom to the top of the gorge and are called "Stone Symphony". These amazing rocks formed under high pressure as a result of the cooling and crystallization of volcanic lava.
In 2013, Armenia won the Vettor Giusti Tourist Poster Competition in Europe at the United Nations World Tourism Organization (UNWTO) with the "Symphony of Stones" poster.
The Stone Symphony of Armenia, presented by the National Competitiveness Foundation of Armenia and the Ministry of Economy of the Republic of Armenia, was recognized as the best among the 44 member states of the UNWTO European Commission.
The natural monument is regularly attacked by vandals. Many high-ranking Armenian officials and businessmen are tearing up large sections of the basalt from the Stone Symphony in order to give their homes or buildings a beautiful look, distorting the original appearance of the monument. Now some parts of the monument are almost completely destroyed.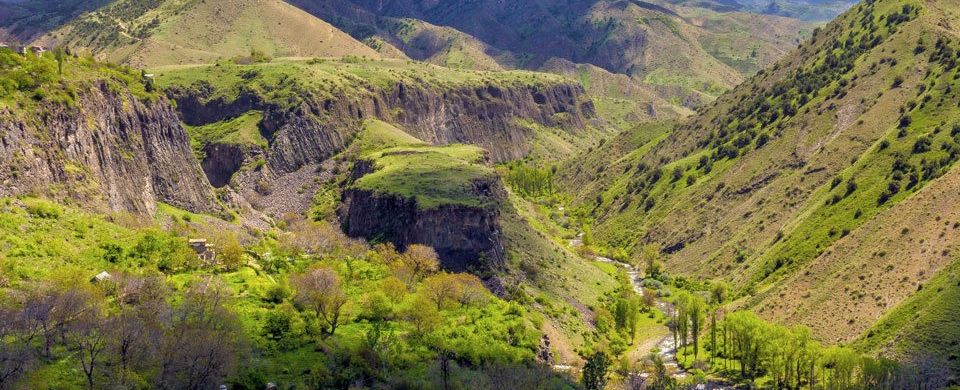 Price for 1 person /USD/
| | |
| --- | --- |
| per. | price |
| 2-6 | 60 |
| 7-17 | 50 |
| 18+ | 40 |
* The tour program includes:
- transportation, guidservice, tickets to all museums and historical and cultural sites to visit, dinner in Armenian restaurant,
* Children under 7 years old - discount 50%